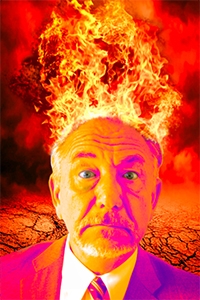 SUNDAY MARCH 31 @ 4 pm. WILL DURST presents: Durst Case Scenario...And They're Off!! at Occidental Center for the Arts

Fresh from the national tour of his award- winning, hilarious chronicle of the changes in America during the Time of Trump, comedian, columnist, actor, author, former margarine smuggler Will Durst is proud to announce he's updated his hysterical historical "Durst Case Scenario," (winner of Best Solo show from Broadway World/Theater Bay Area) with a colon and a subtitle- "And They're Off!" willdurst.com .
KRCB radio host Doug Jayne will be opening for Durst with a few songs.

In this lightning-paced, 85-minute comedic tour-de-force, satirist/author/actor Durst, described by the New York Times as "possibly the best political comic working today", celebrates the two-year anniversary of Donald Trump's 'Reign of Error' with an up-dated analysis and rollicking feast of outrage about where we are, how we got here, and what may lie ahead. Acknowledged by peers and press alike as one of the premier political satirists in the country, Will Durst has patched together a quilt of a comedy career, weaving together columns, books, radio and television commentaries, acting, voice-overs and stand-up into a riotous patchwork of amusing humor.

Prepare to meet the funny side of defiance! $19 Adv/$24 at door. Fine refreshments. Art Gallery open. Wheelchair accessible.