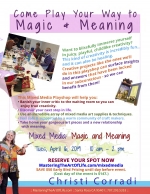 Mixed Media: Magic and Meaning

Want to blissfully immerse yourself in juicy, playful, childlike creativity?
This kind of creativity is incredibly fun... and it can also be healing.
Creative projects like the ones we'll do in this playshop can surface insights and answers that have been locked in our subconscious - so we can benefit from them!

This Mixed Media Playshop will help you:

• Discover your next step in life.
• Use an incredible array of mixed media art supplies & techniques.
• Feel safe & supported by a warm community of craft makers.
• Take home your gorgeous art pieces and a new relationship with meaning.

SPACE IS LIMITED TO 15 PEOPLE, SO PLEASE PREREGISTER SO WE CAN RESERVE YOUR SEAT!

EARLY BIRD PRICE AVAILABLE UNTIL THE DAY BEFORE THE EVENT.


About Your Playshop Leader, Christi Corradi

Christi is author of "The Creative Way in Five Minutes a Day" a vision-driven program to awaken creative thinking with a daily practice.

She uses proven strategies that help stop self-doubt and fear, and develop personal faith, self-love, and confidence that will carry us toward bigger dreams and a more expansive business or personal life.

Through empowerment workshops, programs and tools, she helps participants to think outside the box and get un-stuck so they can create their life as a MASTERPIECE.