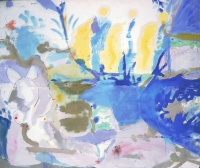 Process Arts and the Appreciation of Beauty.

New Classes: Thursday's 10:30-12:30 begins Jan. 14th.
and evenings,Tuesday or Wednesday 6:30-9:00. + ongoing classes wednesday and friday.


Winter-Spring Online Classes

Mystic Art Circle I

In this ongoing weekly class I showcase mystic artists of the past and present as a means to awaken, beauty, possibility, meaning and inspiration. I present a slide show of one or two artists each week. Though we don't move in chronological time one becomes aware of similar themes across time and space and the contribution each artist makes to the ongoing story of art. A short discussion follows each presentation. I share artists that are related to students work and who broaden their artistic vocabulary and potentials.

Inspiration naturally leads into personal creative exploration in whatever media one chooses, words, images or both. We end by sharing our insights and creations.
This is a Process Art Class not focused on technique per se though there is plenty of learning going on. There is also time to meet privately with me in a breakout room.

Both long time artists and untrained newbie's are nourished and supported by this class to deepen their authentic form of expression.

The is 3 hour class with about 80 minutes of creative time and an optional short movement segment.
Wednesdays 10 to1:00 pm. PST. and Fridays 1:30 to 4:30. Classes ongoing.
Suggested Fee $35. Inquire about sliding scale.
Contact me for more info. and to register. Drop ins welcome.


[email protected]



Some artists we have looked at this year in no particular order.....

Marc Chagall, Joan Mitchell, Paul Cezanne, Claude Monet, Emil Nolde, Wolf Kahn, John Singer Sargent, Hilga of Klimt, Romare Beardon, Qi Baishi, Mayumi Oda, Paul Gaugain, Joan Nelson, Pierre Bonnard, Joseph Yoakum, William Blake, Wabi-Sabi, Grace Hartigan, Odilon Redon, C.G. Jung, Blanche Hoshcede Monet, Casper David Friedrich, Francisco Clemente, Helen Frankenthaler, Henry Darger, Indian Miniatures, Pierre Lesieur, Willem de Kooning, Gustav Klimt, Henri Matisse, Nathan Oliveira, Gustav Baumann.

Read my blog pertaining to my teaching....
"Process Art Making and the Appreciation of Beauty"
here or on my website below......
https://michaelzieve.blogspot.com/20...iation-of.html

Mystic Art Circle II

Can't make a daytime class? Try a shorter version of the same class for 2.5 hours including 70 minutes of studio (creative time).

Tuesday or Wednesday evening 6:30 to 9:00 pm. PST. Day to be determined.
Suggested Fee $30. Inquire about sliding scale.
Class will be ongoing.
Contact me for more info. and to register. Drop ins welcome.


[email protected]



Deep Play Circle.

I am also offering an online class for beginning or veteran Process Artists in mixed media or media of choice. The emphasis is on experimentation and inner listening, following the quiet thread of intuition without agenda. There are inspirational readings, optional prompts, group sharing and opportunities to meet individually with me during class.

For painters and painter/writers. No experience necessary.
Come with what you have, any medium.

This class is for 2. hrs. With approx. 70 minutes of creative time.
Thursday mornings 10:30 to 12:30. PST.
This will be an 8 week class, beginning Jan.7th.

Suggested Fee. $25. Inquire about sliding scale. Contact me for more info. and to register.

[email protected]




"The appreciation of beauty is the core of a civilized or healthy culture"
James Hillman.

One Students Experience.

Michael's Online groups offer so many advantages. Obviously, I have the privacy of my own space, which also means I have ready access to my own materials, and the luxury of continuing my art exploration after the group has signed off. Not so obvious, perhaps, is that online learning has added motivation for setting up a studio area, and scheduling creative time daily. Feeling a strong 'togetherness' in this small circle, we create and learn through Process Painting, and then share with the group each week. Our group is supportive, respectful, creative and open, energetic and friendly - which in large part is down to our fearless leader, Michael. He brings a kind spirit, always encouraging and professional. The framework he has created is well-balanced, grounded and safe. He has brought a dream of mine to life - we 'visit' works of art together, and then discuss and learn, thanks to Michael. Online with Michael is a time I look forward to all week long.

Lindy Woods, former Expressive Arts Therapist.