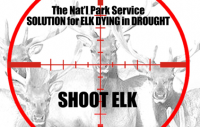 To prop up private, for-profit ranches and dairies that were paid millions to leave the park years ago, the National Park Services is planning on killing more Tule Elks, who are already dying of thirst in this drought and heat.

There is a demonstration taking place this coming Sunday to stop them from killing the elk. Here are the details if you or someone you know might want to attend: https://www.facebook.com/events/643924006546749/


COVID-19 safety protocols will be observed.



The lack of water due to the drought has already killed a bunch of elk. I wrote to Marin Carbon Project (whose members have profited from the land belonging to the elk) several weeks ago about providing water to the elk so they don't die of thirst. Only one person replied saying they are no longer part of MCP.



If you thought Marin Carbon Project cares about the environment over the animal breeding profiteers, think again.