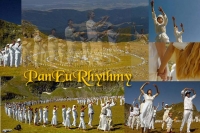 You are invited to enjoy dancing the Bulgarian sacred circle dance called Paneurhythmy. After dancing we will share food, sing songs in Bulgarian and socialize with plenty of distance. The dance is about 40 min long. Some of us choose not to wear masks during the dance ( where there is plenty of space) and there will be plenty of space for social distancing during the singing and sharing of food. The property is very large! You may also go home with lots of fresh greens from the garden. The location is 20 min to Armstrong Woods Park with large redwoods and 40 min from Goat Rock State Beach at the end of Hwy 116. Come and enjoy a day in beautiful west Sonoma county!






All are welcome and familiarity with this Cosmic Spiritual Dance is not needed for one to participate. PanEuRhythmy is only danced outdoors for the intention is to connect with nature. You may find more information at

PanEuRhythmy.us

and other sites on the internet.