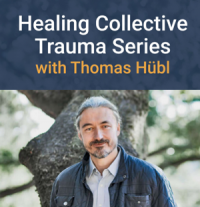 Dear Jude,


Please join Thomas for a FREE series of 3 LIVE online events he's offering this summer on the topic of Healing Collective Trauma.

→ Click here to register for the first event, Collective Trauma in Our World Today, happening this Sunday, July 12
In this live online event, we'll look at:



How does collective trauma get created, passed through generations and re-triggered?
How we are born into a pre-traumatized world and how collective trauma surfaces in times of stress and change.
How do we increase the capacities of individuals and groups to heal the collective trauma of our time?

Sign up below to watch a short video preview:






In this first event of the series, Thomas will talk about the context in which trauma exists and also how dormant trauma can get reactivated.




The underlying consequence of trauma is that it damages our innate human capacity to form and sustain healthy relationships.




By supporting one another through times of difficulty, we can prevent traumatization. And by directly addressing our communal and historical wounds together, we can actively repair the essential disruption trauma has created.




When we create practices that activate group coherence and mutual presencing, we not only heal; we activate our collective nervous system toward higher resilience and evolutionary unfolding.


Click here to register to join us this Sunday.
Your registration includes access to all 3 events and the recordings afterward.
We look forward to having you join us.
Warm regards,
The Thomas Hübl Team
P.S. This first LIVE event will be on July 12 at 9am Los Angeles / 12pm New York / 6pm Berlin. Even if for any reason you're unable to join us at that time, please make sure to register so we can send you the replay afterward. Register here.