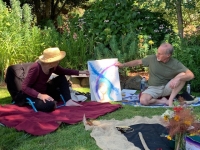 Touch the Earth: Creativity in Nature


10:00 am to 4:00 pm Saturday, July 18th

For more info or to register contact Michael at

[email protected]



We will use social distancing precautions at this small gathering. Still space for one person.

As empaths and creatives we feel the shift we are in deep in our bones. How can we move into this new time as co-creative spirits, vitally grounded, with courage and care in our hearts?

For the fortunate, this 'Great Pause' has served as a precious time for reflection and immersion in nature. My experience concurs with those who tell us that Gaia is offering new energies and opportunities for collaboration in this pivotal time if we have the ears to hear.



We gather together for this purpose, to attune ourselves by listening deeply to each other and by moving into a dialogue with her who is ourself. Through ceremony, movement, meditation and expression we are learning together a new language of soul response, coming closer to our native ground, the sacred ground of being where all is well.



I invite you to join an intimate group experience on July 18th from 10:00 to 4:30 at an enchanted garden space in Sebastopol.


Past Participants Say:

I recently attended Michael Zieve's "Touch the Earth" creative processing workshop. If, like me, you are struggling to keep your bearings as we witness extinction, political mayhem and climate catastrophe this work Michael provides is something to embrace.
He is a skillful guide blending his intuitive creative process, the work of Joanna Macy, movement and selecting wonderful settings in nature to commune with others treading these troubled waters. It is good medicine and nourishment for the soul in these times!

Jeff Rooney, Santa Rosa

"The workshop was a wonderful blend of grounding ourselves in the natural world, and from there delving into creativity through watercolor. There was just enough instruction to feel supported, yet freedom to intuitively explore. Thank you Michael!"

Kaylee Powell, Santa Rosa. Ca.

About Michael:

Michael studied at Rhode Island School of Design and holds a BFA from the School of the Art Institute of Chicago (SAIC). He has exhibited his work both nationally and internationally. His artwork is a dialogue between inner and outer worlds, inspired by nature and imagination. In 2004 he began leading workshops in Intuitive Paint Process influenced by a variety of teachings in expressive arts and awareness practice. He lives and works in Sebastopol, Ca.