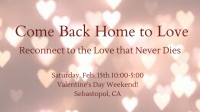 with Dr. Melissa Sophia Joy



Join us for a daylong retreat to open you deeper to the River of Love on Valentine Day Weekend.

Are you ready to:



Bring healing to the parts of you which cause difficulty in your relationships from painfully blocking love, excessively grasping for it, or both due to past trauma(s)?

Step more fully into love, compassion, and sovereignty within first yourself and then with others?

Receive unconditional love from your higher self and the divine which amazingly heals trauma and opens you more fully to love?

Begin seeing the world through the eyes of love?

If so, then please join us…

During this day-long intensive you will be guided to:



Learn (or go further into) Somatic Awakening® a powerful healing modality and spiritual practice which helps you presence, stabilize, and heal the parts of you that most need love and healing through:




More fully understanding and being in relationship to the painful parts inside of you that are causing the most difficulty in your life, as well as connect to your adult consciousness which naturally knows how to stabilize these difficult parts through Gestalt Somatic Awakening®.
Align to your higher self witness consciousness and the divine conduit of love through Somatic Awakening® The Practice which brings powerful healing, presence, and immense love into these difficult parts and their inner wounds so they may deeply heal and are no longer painfully running your life.


Also in this daylong you will receive:



Healing and empowering transmissions and activations which awaken your inner light and the truth of your being from The Council of One, a Council of Christed Ascended Masters, as well as other higher dimensional guides.
Activation of your own internal Diamond Light Grid of Cosmic Christ Consciousness which helps you sustain this healing, this divine unconditional love, and aligns you even more to your higher self.
Connection with a community of other like minded people, as you also learn more about yourself through experiential exercises in dyads, discussion, and Q & A.

And so much more….