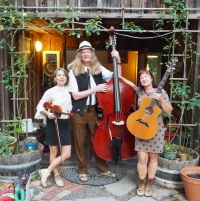 When

| | |
| --- | --- |
| Saturday, January 18th; | 7:30 pm - 9:30 pm |

Where
85 La Plaza, Cotati, CA
Cost
Tickets are $20 General Admission, $30 VIP, and $10 Student
Event Website Add to Google Calendar


Sonoma County natives Anita Bear Sandwina on banjolin, fiddle, mandolin, guitar, and harmonica, Megan McLaughlin on guitar and mandolin, and Tom Kuhn on upright bass comprise Sonoma County's newest folk trio. Their range of musical styles includes Irish, Appalachian, Roots, Jazz, Swing, and Gospel.

Award winning songwriters Anita and Megan's soaring harmonies sing permeate The Musers' sound, offset by Tom's voice, bass and mouth percussion. Their shows are punctuated by laughter, dancing feet and grooves echoing their rock and roll-permeated youth.

Interviews with The Musers and their music are online at https://www.the-musers.com/media

They have recently played the North Bay Uke Festival, Healdsburg Farmers Market, Capp Heritage Napa, and the Monkey House in Berkeley

Tickets are $20 General Admission, $30 VIP, and $10 Student, and may be purchased at shalomevents.org or by calling Ner Shalom at (707) 664-8622. Discounts for those impacted by 2017 – 2019 fires are available thanks to a grant from the North Bay Wildfire Recovery Fund of the combined Jewish Community Federations of San Francisco Bay Area and the East Bay.