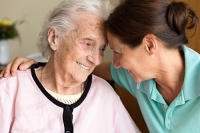 Caregivers can become certified and improve their skills in working with older LGBT+ adults at a free training on Thursday, December 5, 12;30-4:30 p.m., at the Windsor Senior Center, 9231 Foxwood Dr., Windsor.

The training helps family care providers and paid caregivers with In-Home Supportive Services, private homecare agencies, and assisted living and skilled nursing facilities understand the challenges faced by LGBT+ seniors and how to improve their care and find services.

Attendees earn a Certificate of Completion and $25, if they register at least one week ahead of the class date, arrive on time and complete the four-hour class. To register, visit:
lgbtq120519.eventbrite.com. For more information, call the Sonoma County Area Agency on Aging (AAA) at (707) 565-5700.

Two County of Sonoma programs, In-Home Supportive Services Public Authority and AAA, and partners SAGECare and LGBTQ Connections developed the trainings because LGBT+ older adults face different challenges than other caregiver clients.

"LGBT seniors are five times less likely to access the mainstream health, housing, and social services that are available to other seniors," says Sonoma County's Human Services Department Adult & Aging Division Director Paul Dunaway. "Service providers need to implement LGBT-inclusive practices to include this often hidden and underserved population."

To learn about the many Adult & Aging Division services and programs for older adults, seniors and disabled residents of all ages, visit sonomacounty.ca.gov/Human-Services/Adult-and-Aging-Division.