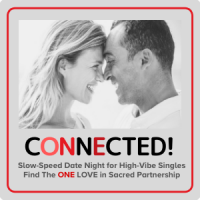 🤵 MEN NEEDED 🤵





💥Tickets for Men are now 50% OFF for the next 48 hours





Click a Link Below and Reserve Your Spot!!!




❤ CONNECTED! WITH JAN ROBINSON (AGES 35-52) - Slow-Speed Dating for High-Vibe Singles - Feb 15:

https://www.eventbrite.com/e/connect...=GenderBalance


❤ CONNECTED! WITH JAN ROBINSON (AGES 50+): Slow-Speed Dating for High-Vibe Singles - Feb 16


https://www.eventbrite.com/e/slow-speed-dating-for-high-vibe-singles-50-sebastopol-tickets-88063778131?discount=GenderBalance
* Are you done with the frustrations of online dating and are looking to find real love in the real world?

* Are you at loss about where to go in the SF Bay Area to meet other attractive, conscious, like-minded singles?

Free yourself from the drama and drag of "dating-as-usual" and enjoy a fun, amazing evening with a group of high-vibe, heart-centered singles.

Features:



10 or more "Slow-Speed" mini-dates designed to create authentic, meaningful new connections and mutual matches
A safe, sacred container and sensual atmosphere in a beautiful, spiritually-activated temple space
A quality group of 20-24 spiritually-aware singles and expert facilitation of heart-opening interactive exercises

Who's It For?



Slow-Speed Date Night for Spiritual Singles is for Bay Area singles seeking conscious love and romantic partnership, who value personal growth and spirituality, meditation, yoga, mindful- and sustainable-living and who dream of contributing to the world with their partner through the expanded love and synergy that emerges when two souls meet.


Participants are self-selecting based upon shared values of presence, self-awareness, authenticity, sexual-spiritual integration and feminine-masculine balance. Because of the semi-structured dates that allow for real and deep connection, Slow-Speed Date Night is ideal for individuals with a more introverted or introspective nature.

Due to the logistics of pairing men and women, this particular event is best suited for straight singles. If you're interested in a queer-friendly event, or another cultural identity group, and are able to help with hosting or outreach, please get in touch with Jan.

Why "Slow-Speed" Dating?



Slow-Speed Dating is different from classic "Speed-Dating" in 3 significant ways.




It facilitates deeper levels of communication and connection beyond superficial small talk.




The tone and pace is mindful, grounded and deliberate rather than hectic and rushed.




The spirit of interaction is heart-centered and relational rather than mind-centered and transactional.


This means you will leave the evening feeling nourished, open-hearted, and energized, rather than dizzy and drained because the emphasis is on quality, non-judgmental relating in the moment between two human beings for its own sake. If romantic sparks fly, that's an added bonus!

This is called "Slow-Speed" Dating because, when you are in your heart, time slows down. The heart (4th chakra) relates to the 4th dimension of time. Think about a time when you've lost yourself in kissing or passionate, dreamy lovemaking. Time no longer flows according to ordinary perception.

How Does It Work?
You will get to interact with 10 or more opposite-sex participants in short, structured "mini-dates." For each mini-date, you will be prompted to explore and share one question or embodied activity. (i.e. meditation, eye-gazing, nurturing touch, breathing, movement with awareness).

After each mini-date, you indicate your interest on a date card in getting to know one another better and connecting on a future date. If you both check "yes", you are a "mutual match"; you will be given each other's contact information. Match information is emailed out the day after the event.

What Do We Do?
The interactive heart-opening exercises during the slow-speed dating portion of the evening are consent-based and designed to create opportunity for both verbal and non-verbal communication in a non-judgmental way, holistic way. So, you're not just talking heads; you are getting to relate as whole human beings.

There will also be unstructured social time following the slow-speed dating to further mix and mingle with those you'd like to connect more deeply with.

Structure of the Evening:
- Opening circle
- Orientation to the evening
- Group exercise for creating easy, warm initial connections
- Slow-speed dating rounds
- Group share and debrief
- Closing circle
- Unstructured time for refreshments and socializing

What's the Age Range?
This event is for people 50y.o. and up!
(if you're not yet 50 and would like to participate, please contact Jan.)

Click Here and Reserve Your Spot!!!
---->>> Early registration ends on Sunday, Feb.1, so get your ticket today and save!

SPECIAL BONUS!
We are also having a Sacred Snuggle Sanctuary for High-Vibe Singles 2 nights before the event (Feb. 14th). If you sign up for Slow-Speed Date Night you will receive $10 off a ticket to Sacred Snuggle Sanctuary.

We are also having other events this weekend in Sebastopol:
Sacred Snuggle Sanctuary for High-Vibe Singles
Friday Feb 14th - 6:30 PM - 10:30 PM

The Dance of Masculine and Feminine in Relating and Dating
Saturday, Feb 15th - 1 PM - 4 PM

CONNECTED! Slow Speed Date Night for High-Vibe Singles (35 - 52 yr)
Saturday, Feb 15th - 6:30 PM - 10 PM

CONNECTED! Slow Speed Date Night for High-Vibe Singles (50+ yr)
Sunday Feb 16th - 1:30 PM - 5 PM

Click Here and Come Play!!!

* * *

PRAISE FROM PAST PARTICIPANTS!
"Hi Jan, Thank you for your amazing ability to create deep connection and authentic presence with a bunch of single conscious strangers. Very magically done! Much Love to you Jan!!" ~Ginni

"It's not about where you're from or what your work is or what your credentials are. It's about meeting another at an energetic level and finding connection. It was superb! I feel these events with Jan are doing a great service to our world, supporting meaningful meetings between women and men." ~Irini

"Thank you so much for showing me/us what is possible, with adding a little awareness and consciousness to love and passion. WoW! Love what you showed us about breath and how can be used in exchanges, giving and receiving. I am very excited to see what is next. Your approach toward dating definitely raises my bar." ~Michael

"Jan is a natural facilitator when it comes to matters of the heart. Thanks for setting the vibe for a lovely evening of connecting and mingling!" ~Kim

"Really good people showing up to this. Jan made the entire event an absolute pleasure. It was way better than I imagined any kind of speed dating scene could be!" ~Dune

"Thank you for the divine time last night! I woke up so filled with joy!! Last night was delightful, enchanting, delicious, safe, supportive, creative and tons of fun! You hold the space with reverence, presence, kindness and assurance in the process that opening to love is of value!!" ~Nico

Click Here and Come Play!!!