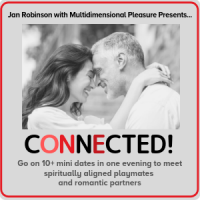 Attention Spiritually-Savvy, Relationship-Minded Singles in the San Francisco Bay Area!

* Are you mystified about where to go to meet other growth-oriented, attractive, available singles for deeply fulfilling, long-term romantic partnership?

* Are you done with the frustrations of online-dating and ready to meet other like-hearted souls in-person, organically?
Come to "CONNECTED! Slow-Speed Dating for High-Vibe Singles" where you will:



go on 10 or more holistic "mini-dates" in one evening in a safe, beautiful, sacred setting
be guided in meaningful dialogue and experiential exercises that take you beyond small talk into a genuine connection
discover your mutual matches in a way that frees you from the usual social-anxiety and performance pressure associated with dating and allows you to show up authentically, playfully, joyfully
learn valuable skills along the way for enhancing your dating and relating skills to increase your feeling of confidence and attractiveness, especially around those you're most drawn to
enjoy a worthwhile, fun and unique social evening out that will leave you (regardless of whether romantic sparks fly) feeling nourished, open-hearted and uplifted!

Come find a connection in a growing community of Bay Area Spiritual Singles who share the values of self-awareness, presence, authenticity, openness, honesty, sexual-spiritual integration, feminine-masculine balance, and harmony.

The very next event may be your Divine appointment with your soulmate, beloved, or life partner!

***Address will be provided with ticket or RSVP to

[email protected]

. ***Presale tickets advised as this event might sell out.