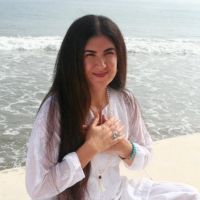 During these turbulent times of such change and intense chaos on Earth, being Centered in Divine Love plays a major role in restoring balance, peace, and harmony for our evolutionary ascension.

Join Mirabai Devi in this profound Intensive to activate and awaken the Divine Self within, to raise your vibrational frequency into the Light, and to live in the 5th Dimension when surrounded by chaos. Open the heart to Divine Love within, release and transmute inner turmoil and blockages, and forgive yourself and others and Let Go. This workshop will help you to deepen your practices for 5th Dimension living by following the Divine Principles and by bringing Light into this unstable world.

Mirabai Devi will offer a group Divine Light Transmission to heal the body, mind, and emotions. She will also work on everyone in the group individually. There will be spiritual wisdom teachings on ascension, peacemaking and forgiveness practices, global healing visualization, Light transmissions, deep individual healing, a call to prayer for planetary healing, and more inspiring exercise tools and practices.

Come and experience transformation and healing that will open your heart, expand your awareness, heal your body and mind and help transmute suffering into a blissful state of Freedom, Grace, and Love.

Mirabai Brief Bio
Mirabai Devi is an international spiritual teacher, facilitator for healing, author, and the founder of the Mirabai Devi Foundation. The Foundation is dedicated to her mission of raising world consciousness through the awakening and healing of humanity. www.mirabaidevi.org

Private Sessions


While in Northern California, Mirabai will be offering in-person Private Sessions. Private Sessions are offered for a full hour or half-hour time slots. During a private, one-on-one session, Mirabai will perceive your needs for healing as well as address any issues you bring to her. The dates are Monday, July 15th and Thursday, July 18th.


For more information please call the Mirabai Devi Scheduling Office at (760) 216-1029 or email us at

[email protected]



***Address will be provided with ticket or RSVP to

[email protected]

. ***Presale tickets advised as this event might sell out.