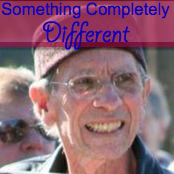 When

| | |
| --- | --- |
| Friday, April 26th; | 8:00 pm - 10:00 pm |

Where
KRCB-Windsor, 91.1 and 90.9 (Wait a minute! WINDSOR!!?)
Add to Google Calendar
Having just met a possible new friend, we were questioning each other about our past experiences, family members present and past, educational adventures, jobs... "So," he said, "What do you do for a living?" "I'm retired," said I. "When did you retire?" he asked. Thinking quickly and counting on my fingers, I answered, "When I was 54." " Really?" he answered, "How long ago was that?" "Oh...twenty years plus." "Really? Did you have good jobs?" "Oh, sure. Why, when I retired, I was making more money than I'd ever made before." "How much was that?" "I got up to four hundred a week. Not bad, huh?" "Four hundred a week? Working an 8-hour day, 5 days a week, that's ten bucks an hour. And now people are fighting to get raised to fifteen!"

It's true...I checked. And it occurred to me that maybe the change I needed to make in my life was...I'll bet you thought I was going to say I should go back to working for a living. Nope. What I need to do is...listen to a lot of music about work...and play some of it for you guys in the radio audience. (By the way, I often think of the music I broadcast as "Audio Radiance.")

So..give a listen next Friday evening, here on KRCB-FM. You'll hear some of your favorite singers and musicians as they go back to working a gig. Like Mark Knopfler going to Europe to work as a laborer (Why Aye Man), Warren Zevon as a badly wounded soldier (Roland the Headless Thompson Gunner) and John McCutcheon as a miner (Joe Hill's Last Will).

You'll also hear some great workers' songs from the past, like Which Side are You On?, 16 Tons, andThe Heart of the Working Man.

Too many songs from men? Well, there are quite a few, but you'll also hear Nina Simone, Natalie Merchant, Anne Briggs and others.

Something Completely Employed. And listen...if all you're getting is ten dollars an hour, join the Union and strike for better wages!