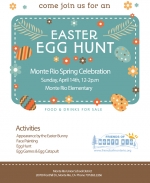 When

| | |
| --- | --- |
| Sunday, April 14th; | 12:00 pm - 2:00 pm |

Where
Monte Rio School, 20700 Hwy 116, Monte Rio
Add to Google Calendar
Beginning this year, the Monte Rio Spring Celebration will be hosted by the Monte Rio Elementary School. This event, previously located at the Monte Rio Community Center, has a longtime partnership with the school, featuring student entertainment and the annual bake sale benefiting the MR School. This year the school hopes to provide better "hunting grounds", expanded egg games, and climaxing with the a new "Egg Catapult" to replace the "Egg Drop From the Bridge" event. (We hope to bring this event back in coming years)

Festivities include: Egg Hunt and Games, Face Painting, a visit from the Easter Bunny, Bake Sale, and a Raffle. Join us from 12pm -2pm, Sunday, April 14 at the Monte Rio Union School, 20700 Foothill Drive, Monte Rio, CA. Parking available.