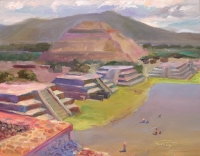 An inner visual journey and guided meditation to help you release what holds you back from
creating the life of your dreams.

Follow the path of a traditional four day spiritual power journey through the ancient Toltec Pyramid complex of Teotihuacán. Explore the plazas, walk down the Avenue of the Dead, and climb the pyramids. Inner exercises and music will help you draw on the energy.



Discover your blocks.
Transform your limiting fears and beliefs.
Choose a life for yourself based on love, happiness, gratitude, and intention.


Sunday, 5/19, 4:00pm-6:00pm, $25

Jasmine Gold is the director of Songbird Community Healing Center, a Toltec Mentor, certified Four Agreements Facilitator, and Reiki Master. She has spent her life awakening to Spirit in an on-going dance of discovery. Her most profound shifts have been through the Toltec path and a three-year intensive Dreaming program with don Miguel Ruiz. She would love to help you live the life of your dreams.