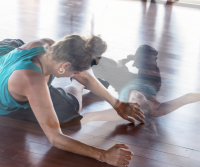 Release & Recover: A Small Group Series





For therapists, coaches, movement teachers, bodyworkers–and other deep divers interested in going further along this path from here to here. This series is for safe un-masking, weekly re-opening, and emotional recovery through the body. Willingness to show up as is, experiment, and fail royally is all that's essential.




WHEN
WEDNESDAYS 11 AM–1 PM PDT [US WEST COAST]
OCTOBER 14–DECEMBER 2, 2020


For more information and to book, please visit https://zuzaengler.com/programs/classes/.