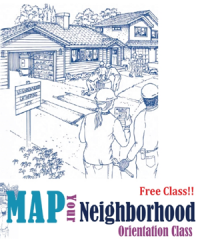 Although the Map Your Neighborhood program primarily focuses on residential neighborhoods in and near Sebastopol, it is easily adapted to more rural areas of West County.

There has never been a better time to come together and learn what we can do to take better care of ourselves, our neighbors, and our community. Simple planning and simple steps can improve our abilities to respond and recover.

Many neighborhoods around the county have already set up MYN groups, but many have not yet set up. In the recent fire evacuations and outages, the MYN groups have helped with their own evacuations and planning. This is the place to find out how to start your own or find one that has started near you. Advanced registration required.

To sign up for the MYN class, please put SEB MYN Zoom in the subject line of an email to:

[email protected]

. For info contact Skip Jirrels, Sebastopol Public Safety Outreach Coordinator,
707/799-2204.