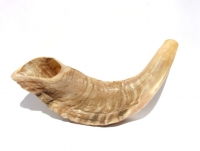 On September 18, 2001, at 10:30 a .m. Pacific, we sat down under the wise old oak trees in Ragle Park for what, by then, would have been the 5th or 6th (who's counting?) gathering of the young Sebastopol Jewish Community. That day, the first anthrax letters were sent from Trenton, New Jersey. It was only a week after the towers and the planes and the world was changing in ways we would eventually come to recognize as the way things were.

Things on September 19, 2020 will not be as we may have thought they would have been last year, on Monday, September 30, 2019. Nor for that matter on any Rosh Hash an ah we've settled in together to, in our way, find something hard to articulate without sounding corny. You'll remember that we have sat and listened together, "shhhhh mmmm aaaaaah."

We spoke with each other, told our stories about our years and, when we were done, stood together, hands on the shoulders of our friends whose hands were actually touching the challah, so close to each other, singing blessings and eating and drinking as if the world could be counted on to provide.

We each carry the same collective bucket of anxiety and fear, of loneliness and dislocation, isolation and, perhaps, despair. And, we each carry, as well, our own, personal bucket of tsuris; a rash, a child far away, a mother whose life is fading, a business that has collapsed, a car that was stolen, a house burned to the ground. I, of course, have my own bucket; things are not as I would have them.

Yesterday, though, Rachel, a wonderful woman who has been with us every year for as long as I remember, called me. She asked me whether we would sit down here, with these old ones, again this year, given, well, you know, everything. She told me how much she and her wife look forward to it and how she would miss it if it didn't happen. I told her that I had been wondering that myself and, honestly, simply didn't know what to do. Then, I began to cry with her on the phone, finally understanding that, yes, of course, we will.


Please subscribe to the Sebastopol Jewish Community Google Group mailing list, send an email to

[email protected]

.






Update Thursday September 17th:

I'm not happy to write this. The county health order prohibits outdoor gatherings of more than 12 people. It took me a while yesterday, after a call to the park ranger, to determine whether this was the case or not. Steve and I had long talks yesterday about this and I also conferred with Denise Meier and had private input from others in our community.

SO:
On Saturday morning there will be a gathering of twelve of us who will know who they are. It will mostly be folks who are actively participating after working with Steve and me in the last week or so to put this together. Please don't come to the park in person if we are not in touch with you.

AND:
ZOOM!
Sebastopol Jewish Community Rosh Hashanah Gathering
Sep 19, 2020
10:45 AM Pacific Time (US and Canada) (ALTHOUGH WE WILL NOT ACTUALLY START 'TIL 11.)

Join Zoom Meeting
https://us02web.zoom.us/j/8274703373...tyUFF2RjVndz09
Meeting ID: 827 4703 3736
Passcode: 758747

PLEASE NOTE THAT WE WILL HAVE ALL OF THE ONLINE PARTICIPANTS MICS MUTED AND NO ONE WILL BE ABLE TO MONITOR THE COMMENTS IN THE CHAT WINDOW. THIS SUCKS.
SHANA TOVA

Gary Weiner
Steve Einstein

Prayer service handout is attached.