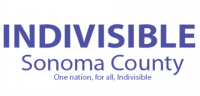 MONTHLY GENERAL MEMBERSHIP MEETING FOR NEW & RETURNING MEMBERS!


Indivisible Sonoma County's "Out of District" leaders talk about our strategy for helping to take back the White House, flip the Senate, and hold the House in order to save our country. They'll talk about where we are targeting our efforts, why that will help us win – and how you can help!

Learn more about Congressional candidates whose races have IndySoCo members excited.

Find out more about what you can to elect candidates to office who share our values and commitment to the Constitution. Join us and find out what you can do!

REGISTER HERE to join us!
Sign up for our newsletter so you don't miss out.