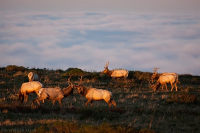 POINT REYES: A WILDERNESS IN PERIL
Weds. April 29th 6 – 7:15pm

Join a team of conservationists, biologists, film-makers and local leaders to learn about our backyard paradise and how it's being threatened by pollution, habitat loss and giveaways to private industry.

Find out how the National Park Service is proposing to further privatize our public land and what you can do to protect and restore the scenic and natural beauty of Point Reyes National Seashore for generations to come. Panelists will be available to answer your questions.

RSVP req'd. See: https://aqus.com/event/point-reyes-a...ness-in-peril/

More info at https://www.pointreyesrewild.org/ and https://restoreptreyesseashore.org/

Due to the high number of attendees, we will be scheduling a follow up discussion in a week's time. To be in the loop, please RSVP. Thank you .