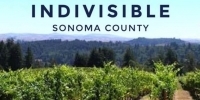 Please join us for our monthly general meeting, Monday, 4/13 at 5:45pm, in a new, sheltering-in-place format – the now-ubiquitous Zoom call. Our guest speaker will be Dennessa Atiles, Indivisible's Senior Regional Organizer for California, Alaska, & Hawaii. Dennessa will be talking to us about the priorities for Indivisible National, particularly the urgent call to protect and expand our elections. She will also touch on Indivisible-provided tools that can help us organize during the pandemic as well as tactics for persuading our representatives.





Register in advance for this meeting:



https://zoom.us/meeting/register/upEkce6ppjkjswbC8sTPOkbqp3Keoyetvg



Speaker's bio: Dennessa Atiles is an activist in Sacramento. She has spent her career as an organizer working for an inclusive and expanded democracy, advocating for policies to reduce poverty and increase equity, and fighting to elect progressive champions. Dennessa is the Senior Regional Organizer for California, Alaska and Hawaii for Indivisible.