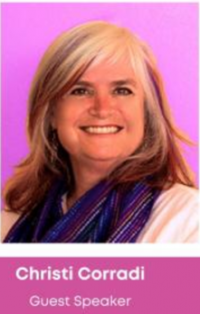 Free online presentation for Women of the World Network

Be a Catalyst in Your Business During Uncertain Times


Learn how in these troubling times to plant the seeds now for successful business in the future.
Say yes to yourself and to your business even during Shelter In Place.
Instead of letting ourselves get caught in worry or fear, we can use this time as the catalyst to move our business forward in the direction of business or personal success.
Learn how to create the foundation to spring forward as we move beyond these unusual times.

We can use it as a time to turn inward, to cocoon, and to determine what kind of butterfly you want to emerge as. We can use this time to be deliberate in that decision.
Have paper, pencil and maybe even colored pencils and I will give you some very concrete, but creative tools for transformation to serve you no matter what the conditions you find yourself in.

About Christi Corradi
A Certified Life Mastery Consultant who's worked for 3+ decades in the personal growth arena, Christi also works with individuals and groups using a tried and true repeatable system of transformation, Mastering The Art Of Life. She guides you to uncover and heal the subconscious limiting beliefs that keep you stuck, and transforming the paradigms into stepping stones to living a life that is the masterpiece you came here to give.
When she's not helping you design your life as a masterpiece, you can find her dreaming up her next international trip, painting in her beautiful garden, or spending time with her husband and son.