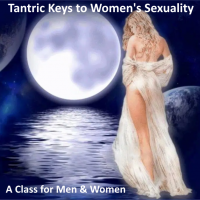 **This workshop has been changed to a virtual event**

---- There will still be experiential exercises and time for individual participants to share, ask questions, and receive expert coaching and guidance! ----

Women ~
Would you like to know the secrets to experience the depth of your Sensuality?

Would you like to expand your capacity for unbelievable pleasure and orgasm?

Would you like to release shame, heal from trauma and clear blocks around Sex and Pleasure?

If So, This Class is for You!!!

Men ~
Would you like to know the secrets to giving your partner intense pleasure and massive mind-blowing orgasms every single time?

Would you like to stop having to guess about what turns women on and learn what satisfies their true desires (**the things they will never tell you but secretly want)

Would you like to Blow Her Mind with new Tantric Thrusting Techniques and Sexual Positions that she's never experienced before?

If So, This Class is for You!!!

******************************

In this 3 Hour Tantra Class You Will:



Discover Your Unique Sexual Energy Blueprint
Learn How to communicate what you REALLY want to your partner
Learn the 9 Types of Female Orgasms
Learn How to Activate/Stimulate the 9 Types of Female Orgasms (including Full Body, Multiple and "Amrita" or Ejaculatory Orgasms)
Learn Secret Tantric Sexual Positions that Easily Expand Her into New Greater Experiences of Pleasure
Embrace and Reclaim Your Sexuality
Learn About Female Sexual Anatomy and How it Relates to Orgasm (**things you've never heard anywhere else)
Clear Shame, Trauma and Limitations around Sex and How Much Pleasure You Can Experience
And so much more!!!

Does this sound exciting to you? If So, Come Play!!!

Click Here and Learn the Tantric Keys to Women's Sexuality!!!

**Singles, couples, all ages (18+), all genders, and all orientations are welcome. This is a safe, conscious, sex-positive, body-positive healing space created for your learning and self-expression of your true desires. All exercises are clothes-on.
NOTE: This is a substance-free event. If you are on drugs or alcohol during the event, you will be asked to leave without refund.


Facilitated by Jan Robinson and Macaya Miracle

Click Here and Learn the Tantric Keys to Women's Sexuality!!!

Other Tantra Events in Sebastopol that weekend:

Intro to Tantra - Techniques and Embodiment Playshop
Friday March 20th - 6:30 PM - 10:00 PM

Energy Sex - Tantric Play for Pleasure and Healing
Saturday March 21st - 11:00 AM - 5:00 PM

Tantric Techniques for Everyday Ecstasy
Saturday March 21st - 7:00 PM - 10:00 PM

Tantric Keys to Women's Sexuality - A Class for Men and Women
Sunday March 22nd - 12:00 PM - 3:00 PM
*** Come to all 4 Events and Receive a Discount ***

Click Here and Come Play!!!

About Your Facilitators:
Together, Jan Robinson and Macaya Miracle have a combined 35+ years of training and experience teaching tantra, sacred sexuality, and energy healing. Their passion is to help you enjoy a life of unparalleled love, pleasure, joy and bliss.

Macaya Miracle is an Energy Healer/Teacher and Sacred Sexuality Educator from the Bay Area. He helps people open their capacity for more pleasure in all areas of their life through Tantra, Sacred Sexuality, Sexual Energy Healing and Awakening, Accelerated Light Energy Healing and intuitive counseling. He also helps women open their sexual energy and heal from sexual trauma so they can start openly living life and connecting to others in a way that brings them more bliss and joy than they ever imagined possible!. Learn More about Macaya Miracle at http://beingjoy123.com/

Jan Robinson, M.A. is a speaker, best-selling author, tantra expert, and conscious sex and relationship mentor. For 20 years she has helped hundreds of women, men, and couples have and enjoy deeper, more fulfilling sex, love, and intimacy through the awakening of their most powerful energy of creativity and consciousness (i.e. kundalini). She is the founder of Multidimensional Pleasure, offering individual coaching and group trainings on the topics of women's sexuality, relationship attraction, and manifesting the feminine way.

Receive your FREE downloadable Multidimensional Pleasure audio gift and schedule your complimentary "Breakthrough-to-Bliss" Discovery Session with Jan for you next best step toward creating the conscious relationship of your dreams at:
www.multidimensionalpleasure.com

Click Here and Come Play!!!