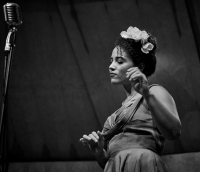 SOLD OUT! The Billie Holiday Project. WE ARE AT MAXIMUM SEATING CAPACITY FOR THIS SHOW. We regret the inconvenience, but please do not come to the door as there are no spaces left.

Led by talented songstress Stella Heath, who skillfully evokes the vocal style of legendary singer Billie Holiday, and featuring some of the Bay Area's finest musicians, this concert will deliver superb and thought-provoking entertainment.

Shrouded in mystery as she was draped in fur, Billie was multi-faceted; she possessed a sensitivity and ability to make the songs she sang as personal as if she was singing them softly in your very own ear. Stella's quintet brings back the electric and intimate feeling of seeing Lady Day live in a 1930's Jazz Club.

The band also revives some of the earlier and lesser known tunes she interpreted. Stories of Billie's life and music are interspersed with the music.

The ensemble includes Sonoma County piano virtuoso Neil Angelo Fontana, Michael Fortunato on tenor saxophone and clarinet, Trevor Kinsel on upright bass and cornet, and drummer Spike Klein. www.billieholidayproject.com

Please join us for an unforgettable evening of classic Billie Holiday tunes delivered with style, nuance and emotion by the lovely Stella and her fine band as OCA celebrates Valentine's Day, and Black History Month!

$20 advance/$25 at the door. Last year's performance was sold out, so be sure to get your advance admission!

Fine refreshments available include champagne, wine and beer. Wheelchair accessible. OCA Art Gallery will be open for viewing. www.occidentalcenterforthearts.org.