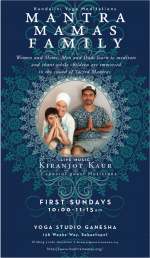 Dear Divine Family,






I am looking forward to singing with you ALL at last this Sunday!



Mantra Mamas Family- Everyone Welcome- you don't have to be a parent to join but if you have young children bring them to sing and play!



Sunday Feb 2nd, 10-11:15 am




Yoga Studio Ganesha,




138 Weeks Way, Farmers Market Plaza, Sebastopol




Class by donation


Childcare provided

Testimonial



ď I left my first Mantra Mamas with a huge aura and glow. I left feeling awakened, refreshed, and connected with my interior me (and the little baby growing inside as I was 4 and a half months pregnant my first time). Kiranjot puts thoughtful reflection and energy in every aspect of Mantra Mamas from cultivating a welcoming and calm space to the guided reflections that accompany the guiding theme of each class. Mantra Mamas is like a portal to a different realm of feeling and being. Be prepared to feel alive and empowered and most of all grateful. Thank you Kiranjot for creating and supporting the Mantra Mamas space.Ē



ĖMegan Harvell


Also every Thursday Divine Voice class in downtown Sebastopol


for more info and location reply to email.