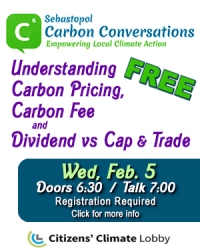 When

| | |
| --- | --- |
| Wednesday, February 5th; | 6:30 pm - 8:30 pm |

Where
Sebastopol Grange, 6000 Sebastopol Ave., Sebastopol
Cost
Free - Pre-registration Required
Event Website Add to Google Calendar
Understanding Carbon Pricing:

Carbon Fee & Dividend
vs
Cap and Trade





As the political process struggles to address this challenge, disinformation floods the public space, creating confusion and delay. What must be done to reduce emissions, begin to pull greenhouse gases out of the atmosphere, and return the Earth to a safe-climate future? How can the public and decision-makers cut through the resistance and denial in order to do what is necessary to avoid dangerous climate change?



Peter G. Joseph, M.D. is an emergency physician trained by former Vice President Al Gore to educate the public about the devastating impacts of global warming. He now leads the Marin County chapter of the Citizens' Climate Lobby, which advocates for a predictable, steeply rising carbon fee that is fully returned to citizens and a border carbon duty to incentivize trading partners to do the same. He will review the latest scientific data and discuss both the technical and political aspects of humanity's greatest challenge.

Speaker: Dr. Peter Joseph, Citizen Climate Lobby.

Wednesday, November 6, 2019 Time: 7pm. doors open at 630pm.

Sponsored by The Rahus Institute and Sebastopol Grange. in Collaboration with 350 Sonoma, Sebastopol Climate Action.

It's FREE but registration required. Please fill out form here.