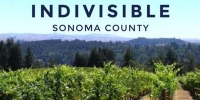 MONTHLY GENERAL MEMBERSHIP MEETING FOR NEW & RETURNING MEMBERS!





Lisa Bennet, Carey Wheaton, Jim Wheaton, and Ruth Carter are guest speakers.





Topic: Reforming the California Democratic Party from the Grassroots Up. What does it mean to take on delegate role and what we can do as grassroots activities.





===





Indivisible Sonoma County will help you prepare for the Presidential contest! Learn more about Congressional candidates whose races have IndySoCo members excited.





Find out more about what you can to elect candidates to office who share our values and commitment to the Constitution.





Join us and find out what you can do!