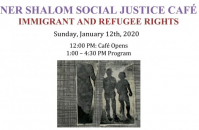 Please join us at the 3rd annual Ner Shalom Social Justice Cafe this Sunday, Jan. 12th from 12-4:30pm. Doors open at noon so come early and buy a delicious dish or get a drink at our Organic Cafe from 12- 1pm. Visit with artists Jami Taback and Susie Stonefield Miller and peruse their art work. Buy your raffle tickets early so that you might win one of our 20 locally sourced prizes. And visit the tables of our local organizations.

At 1pm the formal event begins with music and a presentation by Elaine Leeder on the History of Jewish Immigration. Throughout the afternoon, there will be speakers including Avi Rose from Jewish Family and Children's Services East Bay, Hebrew Immigration Aid Society (HIAS), Queer Asylum Accompaniment, Rapid Response Network, Never Again Is Now, GoCompassion, Sonoma County Sanctuary and Comite Vida.

The Cafe will open again in mid afternoon and at the end of the day so you can get a bite to eat or a drink. Our fabulous raffle items will be raffled off 3 times during the afternoon and you can peruse the organizations tables, speak with representatives and catch up with old friends and meet new ones.

This is a scent free event. Please be mindful.

We look forward to seeing you.