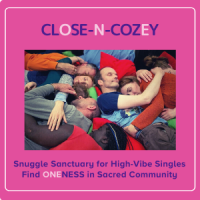 Do you miss physical closeness and contact in your life? Would you like to meet fun new conscious singles who like to cuddle? Would you like to be in a sacred space where it's safe to give and receive nurturing touch with others? If So… Come Play Because Sacred Snuggling is Fun and Amazing!!!

Some things you may experience at a Snuggle Sanctuary are giving/receiving cuddling, caressing, massage, eye gazing, blissful napping, meditating/breathing together, either one-on-one and possibly in a group situation. You are at total choice in what you would like to create and experience.

In this 4 hour Celebratory Valentine's Event you'll be guided through some icebreakers and connection exercises along with empowering education on how to easily tune into and communicate authentic desires and boundaries.

Once we are all on the same page about communicating consent and boundaries, you will experience a couple more exercises to practice what you've learned and then the space will be open for you to give and receive requests and connect with other conscious people in the space.

The Sacred Snuggle Sanctuary will include platonic, nurturing touch. There will be no sexual activity or touching at the event. Clothing will stay on the entire time.

Here's some benefits people receive from the Snuggle Sanctuary Experience:



Boost in mood
Buzzing with aliveness
A Soft, open, radiant heart
Excited about the new connections you've made
Feeling renewed and relaxed in your body
Confident in your ability to connect and create a meaningful connection,
More sustained Bliss in your body

Are you excited to make new connections and snuggle? If so, Come Play!!!


Click Here and Come Snuggle!!!

Date: Friday February 14th - Valentine's Day
6:30 PM - 10:30 PM
(doors open at 6:00 PM - please arrive at least 15 minutes early so we can start on time)
Love Exchange: $30

Click the Tickets Button and Come Snuggle!!!

We are also having other events this weekend in Sebastopol:
Sacred Snuggle Sanctuary for High-Vibe Singles
Friday Feb 14th - 6:30 PM - 10:30 PM

The Dance of Masculine and Feminine in Relating and Dating
Saturday Feb 15th - 1 PM - 4 PM

CONNECTED! Slow Speed Date Night for High-Vibe Singles (35 - 52 yr)
Saturday Feb 15th - 6:30 PM - 10 PM

CONNECTED! Slow Speed Date Night for High-Vibe Singles (50+ yr)
Sunday Feb 16th - 1:30 PM - 5 PM

Register for Sacred Snuggle Sanctuary and get a Half-Price Ticket to CONNECTED! Slow Speed Date Night the same weekend!!!

Click Here and Come Play!!!


________________________________


What to bring



Comfortable, loose-fitting clothing
Extra blankets and pillows to make the space even more cuddly
A snack to share (optional)
Non-alcoholic beverages

We will provide filtered water for the event.

What not to bring



Expectations
Drugs/alcohol
Weapons of any kind

About Your Facilitators:
Together, Jan Robinson and Macaya Miracle have a combined 35+ years of training and experience teaching tantra, sacred sexuality, and energy healing. Their passion is to help you enjoy a life of unparalleled love, pleasure, joy and bliss.

Macaya Miracle is an Energy Healer/Teacher and Sacred Sexuality Educator from the Bay Area. He helps people open their capacity for more pleasure in all areas of their life through Tantra, Sacred Sexuality, Sexual Energy Healing and Awakening, Accelerated Light Energy Healing and intuitive counseling. He also helps women open their sexual energy and heal from sexual trauma so they can start openly living life and connecting to others in a way that brings them more bliss and joy than they ever imagined possible!. Learn More about Macaya Miracle at http://beingjoy123.com/

Jan Robinson, M.A. is a speaker, best-selling author, tantra expert, and conscious sex and relationship mentor. For 20 years she has helped hundreds of women, men, and couples have and enjoy deeper, more fulfilling sex, love, and intimacy through the awakening of their most powerful energy of creativity and consciousness (i.e. kundalini). She is the founder of Multidimensional Pleasure, offering individual coaching and group trainings on the topics of women's sexuality, relationship attraction, and manifesting the feminine way.

Receive your FREE downloadable Multidimensional Pleasure audio gift and schedule your complimentary "Breakthrough-to-Bliss" Discovery Session with Jan for you next best step toward creating the conscious relationship of your dreams at:
www.multidimensionalpleasure.com
Click Here and Come Play!!!