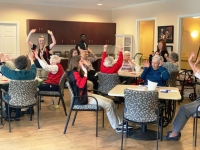 Apply for a fun and rewarding volunteer position as a certified instructor for Bingocize, a nationally-recognized falls prevention program that combines games of Bingo with gentle seated and standing exercises. Taking Bingocize classes reduces the risk of falling by improving older adults' physical fitness, balance, strength and flexibility.

Bingocize instructors and attendees have fun playing a lively game of Bingo, doing simple exercises, and learning falls prevention tips that reduce the risk of falling. Classes are offered countywide.

"It's so rewarding to see people having a good time exercising, interacting with each other and getting excited when they get a Bingo," says Bingocize Instructor Brian Griffiths. "Bingocize is a great program to get older adults moving and improving their balance."

Applicants should enjoy helping people, have good communication skills and be able to demonstrate simple exercises to a group. The certification process is online and self-paced, and the exercises are easy to learn. Certified volunteer instructors lead several series of one-hour Bingocize classes in the year following completion of the training.

For more information about Bingocize and becoming a volunteer Instructor, contact the Sonoma County Area Agency on Aging Program Coordinator Autumn at

[email protected]

or (707) 565-7321.

Bingocize courses are funded through Older Americans Act and/or USDA's Supplemental Nutrition Assistance Program (SNAP). This location is an equal opportunity provider and prohibited from discriminating. To file a complaint, call (707) 565-5936. Apply for CalFresh benefits through the County's Economic Assistance Division by calling (877) 699-6868.




January 6-27, Mondays, 1–2 p.m., Bethlehem Towers, 801 Tupper Street, Santa Rosa

February 1–22, Saturdays, 11 a.m.–noon, Russian River Senior Center, 15010 Armstrong Woods Road, Guerneville. Led by Sister Frances of the Russian River Sisters.