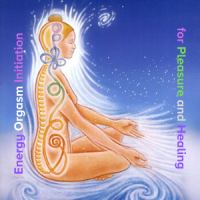 * Would you like to learn how to harness the power of your orgasmic life force for healing and awakening you on all levels?

* Would you like to open up your body's natural capacity for full-body orgasm and bliss?

* Do you want to be able to give your lover new, intense pleasures they didn't even know their body was capable of?

If So, This Class Is For YOU!!!

In this daylong experiential journey, you will be initiated into the magic of full-body energy orgasm. Lovingly guided by tantra and energy-healing experts, Jan and Macaya, you will receive instruction and training in everything you need to know to be able to perceive subtle energy and feel it as real, allow it to flow through your entire body and experience full-body energy orgasm--no prior experience necessary!

In This 6 Hour Class You Will:
• -Learn to give and receive full-body orgasms--without even touching the other person!

• -Learn the "ABCs" of subtle energy: how to feel it, activate it, and move it through your body and your partner's body for profound healing, awakening, and pleasure

• -Enhance pleasurable sensation in your body, expand your capacity to receive pleasure, liberate your orgasmic response, and have more intense, fully-embodied orgasms

• -Release the emotional and sexual blocks that keep you from fully relaxing in to your ecstatic nature so you can be more creative, alive, and magnetic in your life

• -Become a better lover and take lovemaking to a whole new level through tantric secrets to prolong and deepen intimacy, increase sensitivity to your partner, and make sexual climax last 3 to 11 times longer!

We are so much more than just our physical bodies! We are multidimensional beings whose very essence is love, bliss and joy. In other words, ecstasy is your natural state. With a few simple techniques, new awareness, and an afternoon of blissful relaxation and play, you'll be able to feel that ecstatic nature of yours shining through (and so will others)! So, wherever you are on your path, even if you've never experienced an orgasm in your life, this class is for you because ultimately, you will be coming home to your Self.

Click Here and Reserve your seat today for Energy Orgasm Initiation for Pleasure and Healing

Watch a demo of a Full Body Energy Orgasm Here.

Register for the Energy Orgasm Class below and get a half-price ticket to CONNECTED! Slow-Speed Dating that same weekend!!!

Sat Night: Slow-Speed Dating for Ages 35-52
Sun Afternoon: Slow-Speed Dating for Ages 50+

Click Here and Learn to Have Energy Orgasms!!!

**Singles, couples, all ages (18+), all genders, and all orientations are welcome. This is a safe, conscious, sex-positive, body-positive healing space created for your learning and self-expression of your true desires. All exercises are clothes-on.

NOTE: This is a substance-free event. If you are on drugs or alcohol during the event, you will be asked to leave without refund.

Click Here and Reserve your Seat Today for Energy Orgasm Initiation for Pleasure and Healing

About Your Facilitators:
Together, Jan Robinson and Macaya Miracle have a combined 35+ years of training and experience teaching tantra, sacred sexuality, and energy healing. Their passion is to help you enjoy a life of unparalleled love, pleasure, joy and bliss.

Macaya Miracle is an Energy Healer/Teacher and Sacred Sexuality Educator from the Bay Area. He helps people open their capacity for more pleasure in all areas of their life through Tantra, Sacred Sexuality, Sexual Energy Healing and Awakening, Accelerated Light Energy Healing and intuitive counseling. He also helps women open their sexual energy and heal from sexual trauma so they can start openly living life and connecting to others in a way that brings them more bliss and joy than they ever imagined possible!. Learn More about Macaya Miracle at http://beingjoy123.com/

Jan Robinson, M.A. is a speaker, best-selling author, international tantra teacher, and sex and relationship mentor. For 20 years she has helped hundreds of women, men, and couples have and enjoy deeper, more fulfilling sex, love, and intimacy. She is the founder of Multidimensional Pleasure, offering individual coaching and group trainings on the topics of women's sexuality, relationship attraction, and manifesting the feminine way.

Receive your FREE downloadable Multidimensional Pleasure audio gift and schedule your complimentary "Breakthrough-to-Bliss" Discovery Session with Jan for you next best step toward creating the conscious relationship of your dreams at: www.multidimensionalpleasure.com

Click Here and Learn to Have Energy Orgasms!!!