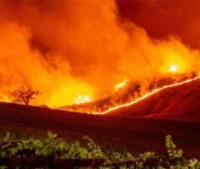 Presents
Climate Readiness - What we learned from the Kincade Fire and how to be better prepared next time.





Free - Pre-registration Required - Register here

With the fires and evacuation experience fresh in our minds, and having affected everyone, this is a chance to get together and share experiences, identify what worked and what needs to improve. Climate Change is slapping us hard in the face and we can expect local wildfire seasons each year going forward. As we craft plans to be better prepared, individually and as a community, itís important that we craft solutions that improve our safety, as well as help reduce GHGs.


For teachers exploring Climate Solutions in class, this focus on Readiness can engage your students in new ways.

Please RSVP at this link to let us know youíre planning on attending.
(The original talk on Carbon Pricing will be rescheduled).