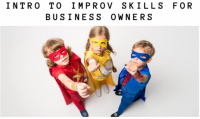 What if I told you that the skills you learn in Improv could dramatically improve how you speak about what you do?

This is a FREE Event that will lead into a 6 week group program for those that find it useful and fun.

To reserve your spot, use one of the eventbrite codes:

Petaluma Monday October 21st

Sebastopol Tuesday October 22nd

If you are curious and want to know more let's talk!

[email protected]


or call (707) 387-0l167



Michelle Maree blends her unique skills as a performing artist / director, drama therapist and transformation coach to help you speak with confidence, command the room and increase your impact and influence through public speaking.