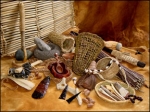 Naturalist and "Skills of the Past" practitioner

Dino Labiste

will give a presentation on Paleolithic knowledge and technologies, such as making fire, creating shelter, hunting tools, hide-tanning, basketry, etc.





Plus, a hands-on cordage-making activity (supplies included). This event is free and open to all.






This program is part of the Planet People Project. The Planet People Project is the library's proactive program series about building resilient communities and ecosystems. We host programs about different themes on the topic of sustainability.