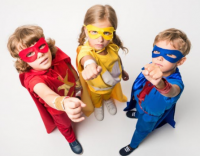 Women of Impact and Influence with Michelle Maree



I'm super excited about this FREE intro evening.


I have used improv in my work as a drama teacher/ director and as a drama therapist for 20 years.


As someone who has struggled with perfectionism and anxiety, it is been a tool that has opened up my world and helped me to stay present and grounded. And it's freaking fun!!


It's funny, until I started learning more about mindfulness practices I never would have considered improv amindfulness practice... But I do now!


Come learn how to talk about your business in a way that is spontaneous, grounded and heart centered. Learn how to build connection instead of delivering your spiel.


If you are a business owner / entrepreneur this workshop is for you!