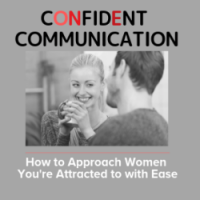 FREE admission as a bonus when registered for Slow-Speed Dating

CONFIDENT COMMUNICATION: How to Approach Women You're Attracted to with Ease



Do you feel anxious approaching women you're attracted to?
Do you worry about getting rejected?
Would you like to have greater confidence and a lot more fun and success in meeting women?

In this 2-hour experiential workshop, you will learn:



the seamless 3-step approach sequence to win a woman's attention in any social situation--without being awkward, creepy, or obnoxious
a quick and easy trick to help you come up with the words you need when you don't know what to say
confident body-language gestures for conveying the masculine qualities that women instinctually respond to

how to stop missing the subtle female cues that tell you a woman is into you

the massive mistake you must avoid so that you spark instant attraction and don't end up in the "friend zone"


Learn how quickly you can build your confidence initiating contact with attractive women through proven, effective social science skills and natural energetic principles. Free yourself from performance pressure, have more fun, and allow your natural charm and awesomeness as a man to come through (that women crave!).

With a few subtle yet powerful shifts, you'll change the course of your love and intimate life forever!

This workshop is designed for men who:


--> Want to be confident and effective while also feeling relaxed and themselves




--> Don't want to be that inauthentic, slimy and manipulative PUA (pick-up artist) guy




--> Genuinely appreciate women. You just want to better understand them so you can have the exciting, fun, and successful love relationship you desire




***


This introduction is led by Jan Robinson, a tantric spiritual teacher, and men's sex and intimacy coach with 20 years experience. Jan brings a unique understanding of and compassion to men's challenges navigating the mysteries of women and guides them to sizzling, soul-satisfying intimate love and partnership.