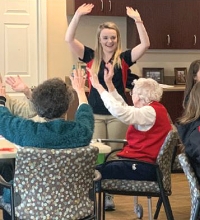 Bingo + Exercise = FUN!



Bingocize combines simple seated and standing exercises that reduce older adults' risk of falling by increasing strength, balance and range of motion.

Hosted by the Sonoma County Adult and Aging Division Area Agency on Aging and the Sonoma County Library.

This course is funded through Older Americans Act and/or USDA's Supplemental Nutrition Assistance Program - SNAP. This institution is an equal opportunity provider and prohibited from discriminating. To file a complaint call (707) 565-5936. Apply for CalFresh benefits through the County's Economic Assistance Division by calling (877) 699-6868.