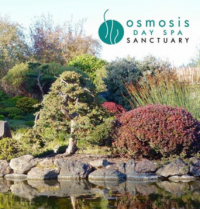 Back by Popular Demand! EnChanted will guide us into this experience of equal day and night and mark the crossing over to Fall.

Our quarterly gatherings have become a seasonal touchstone for our community. A bonding time for friends and neighbors when we connect with the special healing energy at Osmosis that has been cultivated on this land for over 30 years. A channel for healing and reckoning with spirit. Our sound ceremonies tap into the rhythm between sound and silence. With the sound of angelic vocals, we will welcome the coming of darker days ahead.
Become EnChanted and enter into a world of sound that is meditative, empowering and transformative. Alyx Autuori and Kiranjot Kaur both former members of the vocal trio Copper Wimmin have been singing together since they were 12 years old and share a belief in the healing power of music and the human voice.

Afterward, a limited number of people will have an opportunity to have a deeper healing experience in a Cedar Enzyme Footbath. The Cedar Enzyme Footbath immediately following the event is $15 with very limited tickets available.
Entry fee of $15 can be applied to any same day service.
We look forward to seeing you in ceremony and celebration of Autumn in the tranquil gardens.