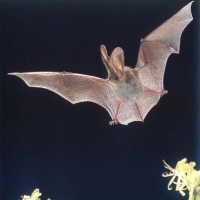 When

| | |
| --- | --- |
| Saturday, October 26th; | 6:00 pm - 8:30 pm |

Where
Laguna Environmental Center, 900 Sanford Road, Santa Rosa
Cost
$20 or $35 (Pre-registration required)
Event Website Add to Google Calendar
Bats, owls and spiders, oh my! Bring familiar Halloween creatures to life during this fun, family-friendly evening at the Laguna Environmental Center on historic Stone Farm. The Laguna is home to a variety of animals we see frequently during the day, but who comes out when the sun goes down? We will take a short walk around the grounds, poking our heads in to the ol' Hop Barn to look for barn owls, listen for high-pitched bat calls, examine different spider webs, and use a UV light to attract wandering moths. After exploring outside, we will go inside to dissect owl pellets and create some simple take-home Halloween crafts to decorate your doorstep for the trick-or-treaters later in the week.

Join our Community Education Program Manager, Allison Titus, and our wonderful Laguna guides for this light hearted celebration of all things nocturnal.