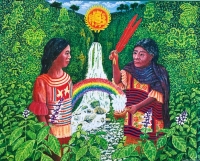 Folktales offer insight into a culture's worldview. With all the current interest in psilocybin and Magic Mushrooms, we must remember that the key knowledge-holders for centuries have been the indigenous Mazatec people of southern Mexico. Beneath their ritual practices lie generations of stories about how their world came to be, and how their world works in spirit and nature.

Kathleen Harrison has collected written and oral stories over 24 years of field work among the Mazatecs. Come spend an afternoon in our unique library, as you listen to her read translated stories and share her perspectives.



Proceeds from this event will go to

Botanical Dimensions' Mazatec Project

, which supports education and cultural heritage preservation for a four-generation Mazatec clan.





Date: Sunday, September 8 from 3-6pm



Location: Botanical Dimensions Ethnobotany Library, at the Occidental Center for the Arts - Occidental, CA

Details and Registration: https://folktales-mazatec.bpt.me/



IMPORTANT: Please reserve your tickets in advance. Space for this class is limited and we will not be able to facilitate last-minute purchases.



This event is one in our occasional Booklore series, at which Kat guides an exploration of the unique treasures of the Ethnobotany Library by reading themed passages from the collection.

Visit our website at http://botanicaldimensions.org/ and email [email protected] with any questions.