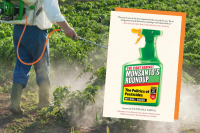 Are you concerned about pesticide use in our county? Community concern over the health impacts of synthetic pesticide use in Sonoma County is growing. Multiple organizations have been working together to address the health and environmental hazards associated with pervasive pesticide use. We have had a number of significant victories in Sonoma County, including restrictions and bans by cities and county municipalities. To continue our efforts, we are formalizing our coalition as Safe Ag Safe Schools (SASS).


Through SASS, we are launching a pesticide movement in Sonoma County that will raise public awareness, provide community education, and strengthen policies that prioritize health and restrict pesticide use. We are currently fundraising to hire a full-time educational organizer for Sonoma County. We are half-way there and need our community's support!

Join us for an informative evening to learn about the international movement to stop toxic contamination and what is being done locally. Find out what you can do to make a difference!

Hear Authors Mitchel Cohen and Robin T. Falk Esser, PhD., discuss their book: "The Fight Against Monsanto's Roundup – The Politics of Pesticides." The book explores the best strategies for winning the struggle for healthy foods and a clean environment. Taking lessons from activists, it offers a new, holistic and radical approach essential for defending life on this planet and creating a future worth living in. Books will be for sale, and signed by the author.

Mitchel Cohen, long time Green activist, coordinates the No Spray Coalition in New York City, which successfully sued the City government over its indiscriminate spraying of toxic pesticides. In 2001, he ran for Mayor of NYC as one of five Green Party candidates. He was editor of the national newspaper Green Politix, and of the NY State Green Party newspaper.

Robin T. Falk Esser, Phd., life long political activist, is the author of numerous articles published in notable scientific journals, a school science teacher for 30 years, received the Siemens AP Science award for excellence in teaching and has been featured for her exemplary teaching in the NY Times and on NBC Nightly National News.
When: Monday, August 5th from 6:30 pm to 8:30 pm
Where: Sebastopol Grange (6000 Sebastopol Avenue, Sebastopol, CA)
Cost: $12 donation suggested, which will go to Safe Ag Safe Schools (SASS) through Sonoma County Conservation Action. No one turned away for lack of funds!