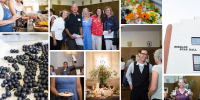 Please join Daily Acts for a farm-to-table dinner featuring food sourced entirely from your favorite regional farmers, ranchers and wine-makers. Enjoy live music and entertainment, an open bar, auction, and the company of your community! Enjoy all of this while raising vital funds to support Daily Acts in continuing our work in Sonoma County.





There will also be an online, silent and live auction for this event. You will be able to preview and start bidding on the online auction prior to this gathering; the silent auction can be perused and bid on during the event, and finally the live auction will feature memorable experiences between dinner and dessert. Enjoy bidding on an array of unique products, tastings, experiences and services that showcase the richness of Sonoma & Marin County businesses. Stay tuned for when the online auction opens up!


2019 Menu
Inspired by the recipes of the Mediterranean, our chefs will prepare a meal that will help define Sonoma County Cuisine. Guests will be seated to a Mezze Styled feast, with an assortment of ten types of appetizers. Kofta meatballs in a savory sauce take center stage of the main course, accompanied by rice and seasonal vegetables. Finally, a silky panna cotta will be served bejeweled with a fruit melange.