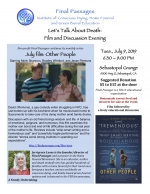 Local non-profit, Final Passages, continues its monthly series Let's Talk About Death: Film and Discussion series on

Tuesday, July 9, 2018
6:30 – 9:00 pm
at the Sebastopol Grange

6000 Hwy 12, Sebastopol, CA 95472

Screening the film Other People
starring Molly Shannon, Bradley Whitford and Jesse Plemons




David (Plemons), a gay comedy writer struggling in NYC, has just broken up with his boyfriend when he moves back home to Sacramento to take care of his dying mother (Shannon). His conservative father still hasn't accepted him, but he is close to his mother, and gets support from his 2 younger sisters. Discussion with an old friend brings wisdom and life.


A balance of emotional, poignant, and humorous, this film examines the mother-son bond and end-of-life difficulties during the last year of the mother's life. Reviews include "whip-smart writing and a tremendous cast" and "powerfully fragile performance" and the director "shows some strong instincts in upending our expectations".



Watch the trailer



Doors open at 6:00PM
Come early to get your seat and enjoy home-made savory foods and desserts for sale at the event.


Suggested Donation: $5 to $15 at the door

Join us to watch the film, followed by lively and educational small group discussion.