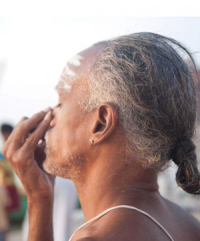 Himalayan Pranayama & Meditation




Wednesdays 8:30-9:30am




Starts Wednesday June 19th






In this weekly class we will explore Lineage Based Himalayan Pranayama, Pratyahara, and Meditation practices.





Using the foundational ujjayi breath along with antah and bahya kumbhak (inbreath and outbreath retention), bandhas (energetic locks/seals), and mudra.





Ujjayi, when done correctly, this thin and long pranayama technique, increasingly impacts the cleansing and rejuvenation of the subtle nerve and energy pathways (nadi) and tones specific glands and muscles in the throat based on how subtly and effortlessly it is done. Ujjayi pranayama is known to have variations, especially with respect to the inner attention on guiding the energy between specific points located within the body.





We will begin with a simple peace chant and neuromuscular relaxation


Agnisara Dhauti and Kapalabhati kriya (clears the mind, cleanses the gut, flushes out toxins, tones internal organs)



Learn basic postures (sitting for a strong spine) for pranayama




Simple standing or seated mini sequence of breath guided movements (vinyasa krama)




Some of the breathing techniques we will learn:





Ujjayi Anuloma, Viloma & Prathiloma

Mantra Pranayama including udgitha pranayama (chanting or ruminating on the primordial Om, developing awareness of the inner sound current (nada) for contemplation and meditation)

Cleansing Nadi (techniques using alternate nostril breathing for nadi purification, this soli-lunar cleansing method assists the opening of the sushumna-nadi)

Agni Balancing techniques

Cooling Breaths

Pratyahara-Sealing the Senses with Shanmukhi Mudra

Reposing in subtle after effects in the heart center
Various Meditation practices

****Certain pranayama practices are contraindicated for those with high blood pressure and heart conditions, while others are beneficial. Please contact Kara before the Wednesday class to see if attending that week is appropriate.



***Please practice on an EMPTY STOMACH, light morning beverage ok




*No yoga mat necessary (optional), a pillow or meditation cushion recommended if needed for relaxing the legs or keeping the spine straight. Chairs are available.


*Please arrive about 10 minutes early. Doors will be locked at start of class.



$15/class or any donation welcome.


Please contact Kara Weimer @

[email protected]

, 707.235.1413 for any questions
www.karavinyasayoga.com

These lineage based practices are from the teachings of His Holiness Swami Vidyadhishananda Giri, a realized, ordained Himalayan Vedic Monk, Nath Yogi & Vedic/Sanskrit Scholar.



And Srivatsa Ramaswami (disciple of Krishnamacharya for over 33 years), an expert in Vedic chanting, yoga philosophy, vinyasa krama, pranayama and recognized as an Institution of National Importance by the Government of India, Ramachandra Medical University and Yoga Brotherhood.