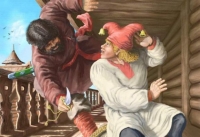 Systema (Система, literally meaning "the system") is a Russian martial art.

Systema's (The System) approach to martial arts and a healthier lifestyle is unique to the world of martial arts. In this demonstration, we hope to show you the basic concepts of this art form and how practical it is. Mobility and adaptability are paramount to this art. We will demonstrate various movements and applications showing various types of scenarios.

The roots of Systema Spetsnaz (Russian Martial Arts) date to the 10th century, developed by Cossacks, Russian Warriors. Russian Spetsnaz training is based on reality self-defense situations and it works well for bodyguards, police, security or civilian self-defense training.

Systema Spetsnaz teaches how to use only 25% physical strength and 75% natural flow of inner energy.

Nick Nicholson:
Nick Nicholson grew up in San Francisco and is the son of Russian immigrants.
Nick started training in the martial arts at age 12 in the art of Judo.
Once in college Nick trained in Shotokan Karate, reaching the rank of 2nd degree Black Belt.
Nick also has a 1st degree black belt in Shorin Ryu Karate and Chinen Ryu Motobo-Ryu.
Once Nick approached his 40's, he found that hard style competitive martial arts where taking a toll on his body and he started to explore martial arts that were more healthy to his body and yet still had practical martial art elements.
Nick discovered the Russian Martial art of Systema while attending a Systema Seminar in Los Angeles.
Nick has traveled to Canada and to Moscow to train with top Russian Systema instructors.
Nick is a certified instructor in Systema, but he still sees himself as a beginner in the art. Nick initially taught Systema in his garage, public parks and at the Saint Seraphim of Sarov Orthodox Church.
Nick's student Juan Fogal is a professional martial arts instructor and teaches Systema full time in Santa Rosa. Nick trains with Juan and attends Systema seminars throughout the year to develop his skills.