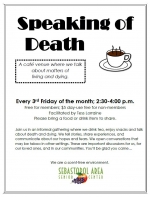 Speaking of Death tomorrow Friday the 21st at 2:30pm.
167 N High Street
Sebastopol Senior Center
829-2440

Come and join a group of people to listen, share or just be. This is a time to share in matters of life and death.
Facilitated by Tess Lorraine. Tess comes to us every 3rd Friday of the month. Please feel free to bring a food item to share.



Free to members and only $5 for non members.