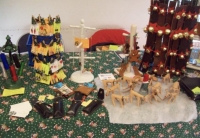 Leather crafts, hand crocheted/knitted items, several artists selling hand-crafted greeting cards, handmade boxes, one-of -a kind beaded jewelry, handmade soap, sweet collectibles, and artisan chocolate. We'll also have a few tables of miscellaneous flea market items: brand new IKEA dish set, French books, miter box, pots/pans, kitchen items, child's cot, hair clippers, recorder (flute), digital camera, etc.

Saturday, June 8, 2019 from 9am to 2pm
Burbank Heights, 7777 Bodega Avenue, Sebastopol
Cross street: Nelson Way
Drive up to the top of the hill to the Community Building by the flagpole
Park in any staff-marked spot or non-numbered stall or at Luther Burbank Farm parking lot.