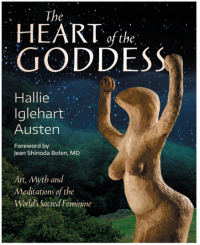 OCA's Book Launch Series proudly presents Hallie Inglehart Austen's The Heart of the Goddess: Art, Myth, and Meditations of the World's Sacred Feminine . Joined by Joan Marler, archaeomythologist

The Sacred Feminine is rising all over the planet—and with it the values of compassion, peacemaking, nurturance and love of the Earth—bringing renewed attention and expression to mythical and spiritual guides that have been revered for hundreds of thousands of years. The Heart of the Goddess presents a wide-reaching selection of art, meditations, poetry, prayers, values, and living lessons of Goddess culture. For Hallie Iglehart Austen, respect for the Earth, restoration of community, and regaining the long lost power of women are inseparable. Come and immerse yourself in the richness of a multi-media experience of Goddesses from around the world and throughout time, for a transmission of healing, teaching, and the Sacred Feminine in all of us.

This event will feature selected readings with slide show, conversation on-stage with Hallie and Joan Marler, fellow archaeomythologist. Q&A, book sales and signing. Free event, all donations gratefully accepted. Refreshments by donation; wine & beer for sale.