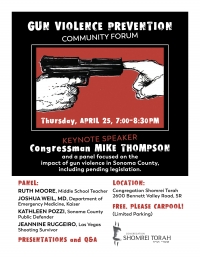 "Gun Violence Prevention Community Forum"

Special Guest Speaker Rep. Mike Thompson, Thursday April 25, 7pm. FREE

If you are concerned with the challenge of gun violence in the United States and what can be done about it please join Representative Mike Thompson and a community panel on Thursday April 25 at 7pm at Congregation Shomrei Torah, 2600 Bennett Valley Road in Santa Rosa.

Gun violence is epidemic in the US and is a leading cause of death especially among young people. Many folks are frustrated by a feeling of helplessness as to how to address this problem. Come find out what is being done locally, state wide and in Congress to help prevent gun violence and how you can participate.

The panel includes Jeannine Ruggeiro, a survivor of the Las Vegas mass shooting, Ruth Moore, middle school teacher, Joshua Weil MD, Kaiser Department of Emergency Medicine and Kathleen Pozzi Sonoma County Public Defender. There will be an opportunity for discussion and questions from the audience.



This very special event is Free and open to the public. The program will take place at Congregation Shomrei Torah 2600 Bennett Valley Road in Santa Rosa. Parking is limited and carpooling is strongly encouraged. For more information call 707-578-5519 or

www.cstsr.org

or connect on Facebook.